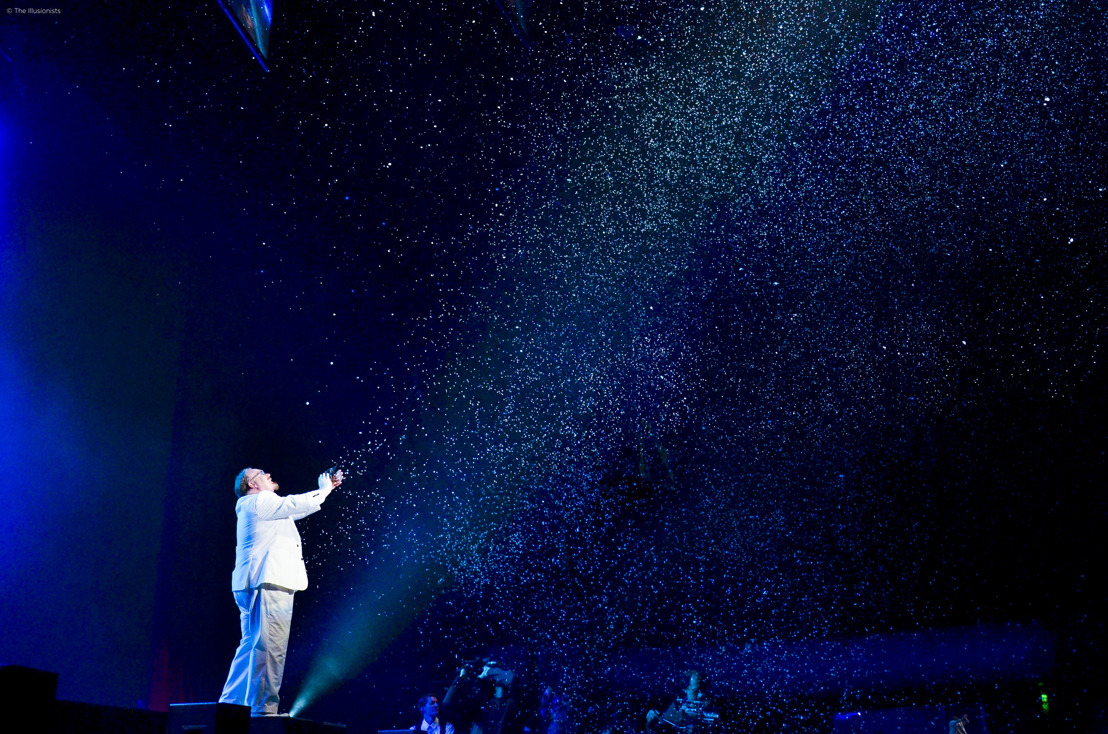 THE ILLUSIONISTS – LIVE FROM BROADWAY COMES TO ATLANTA'S FOX THEATRE FOR ONE WEEK ONLY: SEPTEMBER 27 – OCTOBER 2
Tickets on-sale July 24
Wednesday, July 6, 2016 — On the heels of a highly successful multi-city tour and run on Broadway, the world's best-selling touring magic show, THE ILLUSIONISTS - LIVE FROM BROADWAY™ (www.theillusionistslive.com), will perform a limited one week engagement from September 27 – October 2 at Atlanta's Fox Theatre to kick off the 2016/2017 Fifth Third Bank Broadway in Atlanta Series. THE ILLUSIONISTS - LIVE FROM BROADWAY™ is currently on its North American tour to more than 50 cities.
Tickets go on sale Sunday, July 24. Tickets start at $33.50 and are available at by visiting www.BroadwayInAtlanta.com, calling 1-855-285-8499 or visiting the Fox Theatre Box Office (660 Peachtree St NE, Atlanta, GA 30308). Group orders of 10 or more may be placed by calling 404-881-2000. Performance schedule, prices and cast are subject to change without notice. For more information, please visit www.theillusionistslive.com or www.BroadwayInAtlanta.com.
THE ILLUSIONISTS - LIVE FROM BROADWAY™ will play at Atlanta's Fox Theatre September 27 – October 2. The performance schedule is as follows:
Tuesday-Thursday 7:30 p.m.
Friday 8 p.m.
Saturday 2 p.m., 8 p.m.
Sunday 1 p.m., 6:30 p.m.
THE ILLUSIONISTS - LIVE FROM BROADWAY™ is produced by Simon Painter, Tim Lawson and MagicSpace Entertainment. Conceived by Simon Painter, the show's creative team also includes executive producer Tim Lawson, director Neil Dorward and creative director Jim Millan.
Full of hilarious magic tricks, death-defying stunts and acts of breathtaking wonder, THE ILLUSIONISTS has shattered box office records worldwide and thrilled audiences of all ages with a mind-blowing spectacular showcasing the jaw-dropping talents of seven of the most incredible illusionists on earth.
Creative Producer Simon Painter said, "We can't wait to bring this electrifying show to Atlanta for a truly entertaining experience for the whole family. THE ILLUSIONISTS is the most non-stop and powerful mix of outrageous and astonishing acts ever to be seen on the live stage."
The seven stars, each a master in their own field, are:
The Manipulator, Yu Ho-Jin. Considered a rising superstar in the world of magic; Yu Ho-Jin was recently named the 2014 "Magician of the Year," by Academy of Magical Arts and was the first Asian to win the Grand Prix at the Fédération Internationale des Sociétés Magiques, also known as the "Olympics of Magic."
The Anti-Conjuror, Dan Sperry. Described as Marilyn Manson meets David Copperfield, Dan combines the art of magic with the macabre and is one of the top-10 most Googled people, thanks to a legendary "America's Got Talent" appearance.
The Trickster, Jeff Hobson is the epitome of glamour and showmanship. Don't be fooled by his innocent appearance; Jeff has audiences laughing long after the curtain goes down.
The Escapologist, Andrew Basso. Italy's star escape artist, Andrew considers Houdini his hero and is fast becoming one of the world's most popular illusionists. He is the only person in the world to perform Houdini's famous Water Torture Cell with absolutely no covers.
The Inventor, Kevin James, known for innovative illusions, is an inventor, comedian and collector of the strange and unusual. Kevin is one of the most prolific inventors of magic in the world and has created some of the most celebrated illusions of the last century.
The Weapon Master, Ben Blaque, has established himself as America's foremost master of the crossbow after appearing four times on America's Got Talent. He performs incredibly dangerous acts of dexterity using highly powerful crossbows to shoot various objects supported by his assistant.
The Deductionist, Colin Cloud, Colin Cloud is the best and maybe even the wisest man you've ever known. Cloud has performed for professional sceptics like Penn and Teller. He has wowed the hard-to-please Simon Cowell. He has certainly left people convinced that he does indeed have mystical skills of reading minds and influencing outcomes.
SIMON PAINTER, CREATIVE PRODUCER
Simon Painter is a visionary creative theatrical producer who hails from London. Simon started his career on stage as a classical violinist, and performed the lead role for Spirit of the Dance in Las Vegas. The first show he produced, Le Grand Cirque smashed box office records at the Sydney Opera House selling over 40,000 tickets in 10 days. His two subsequent productions, Aerial Dreams and Adrenaline also broke records in Sydney and across the world and achieved critical acclaim. In 2010 Simon had five versions of Le Grand Cirque playing concurrently. In late 2010 Simon joined forces with Australian producer and close friend Tim Lawson and began assembling the greatest magical minds from a wide spectrum of disciplines. His production of The Illusionists has already performed to record breaking crowds in theatres and arenas across the globe including Australia, Mexico, Latin America, South America, Europe, Asia and the Middle East. In addition to The Illusionists: LIVE FROM BROADWAY, Simon's current projects include Le Noir (The Dark Side of Cirque) and Illusionists 2.0, both of which are currently playing extensive international tours. Simon is also due to open a third installment of The Illusionists (The Illusionists 1903) in January 2015.
TIM LAWSON, EXECUTIVE PRODUCER Tim Lawson is the CEO of TML Enterprises, servicing Australia and international territories with first class musicals and family entertainment with productions spanning across over 100 cities in 20 countries. Australasian theatrical touring credits include Sweet Charity, Buddy – The Musical, Jolson starring Rob Guest, Spirit of the Dance, Oh! What A Night, Fiddler on the Roof starring Topol, It's A Dad Thing!, Weary – The Life of Sir Edward Dunlop, Shout! The Musical, Brave Men Run In Our Family, Jekyll and Hyde starring Brad Little and The Rocky Horror Show narrated by Richard O' Brien. Tim's award winning production of A Chorus Line transferred to the prestigious London Palladium, and his production of Chitty Chitty Bang Bang recently completed a 13 month tour. With partner Simon Painter, credits include Le Grand Cirque, Ariel Dreams, Adrenaline, Le Noir – The Dark Side of Cirque, The Illusionists and The Illusionists 2.0, all enjoying record breaking success and extensive international arena and theatrical touring. The Illusionists 1903 - The Golden Age of Magic premieres in Australia in January 2015. www.tmlenterprises.com
About MagicSpace Entertainment
MagicSpace Entertainment is headed by Lee D. Marshall, Joe Marsh, John Ballard, Steve Boulay and Bruce Granath and has been producing and presenting national tours, Broadway shows, concerts and museum exhibits worldwide for over 35 years. Consistently one of the top promoters in the world, MagicSpace Entertainment typically produces and presents more than 350 events worldwide per year. Recent Broadway credits include The Illusionists - Witness the Impossible (Broadway & West End), Donny & Marie – A Broadway Christmas, American Idiot and RAIN - A Tribute To The Beatles On Broadway. National tour credits include The Illusionists – Live From Broadway, Lord of the Dance created by Michael Flatley, Jamie Hyneman and Adam Savage starring in Mythbusters - Unleashed, Alton Brown Live, Mannheim Steamroller Christmas by Chip Davis, Donny & Marie Christmas, RAIN – A Tribute to the Beatles, The Magic of David Copperfield, Circus 1903 – The Golden Age of Circus, Jesus Christ Superstar, A Chorus Line and national concert tours by Janet Jackson, Cher and Fleetwood Mac to name just a few. Touring museum exhibitions produced include Juassic World: The Exhibition, Tutankhamun and the Golden Age of the Pharaohs exhibition, Titanic: The Exhibition and Diana – A Celebration, St Peter and the Vatican: The Legacy of the Popes exhibition. MagicSpace Entertainment has offices in Park City and Salt Lake City, UT. www.magicspace.net