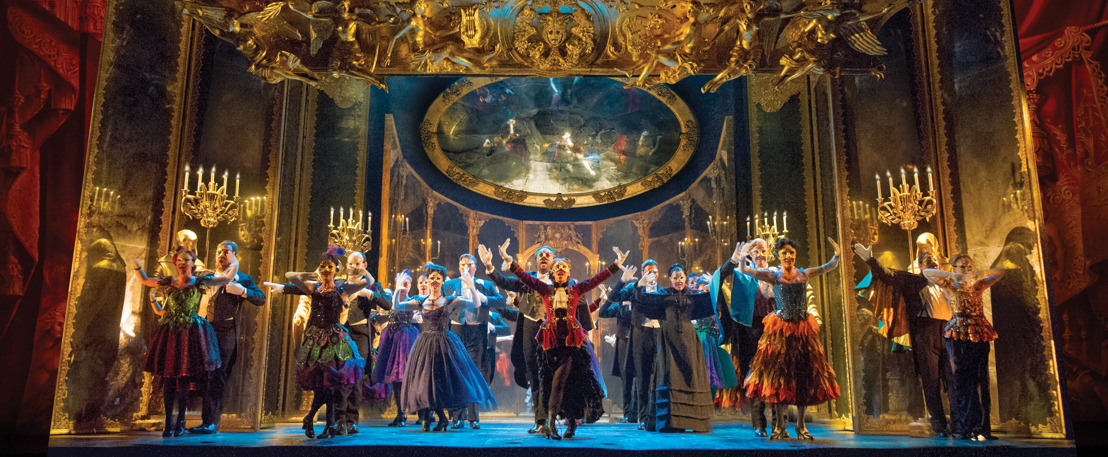 Cast revealed for Andrew Lloyd Webber's THE PHANTOM OF THE OPERA in a spectacular new production by Cameron Mackintosh
Atlanta triumphant return engagement comes to the Fox Theatre February 22 - March 5, 2017 (Tickets go on sale December 18)
Wednesday, November 16, 2016 — Casting has been announced for Cameron Mackintosh's spectacular new production of Andrew Lloyd Webber's THE PHANTOM OF THE OPERA for the triumphant return Atlanta engagement at the Fox Theatre February 22 – March 5 as a Fifth Third Bank Broadway in Atlanta 2016/2017 season special. With newly reinvented staging and stunning scenic design, this new version of PHANTOM is performed by a cast and orchestra of 52, making this one of the largest productions on tour in North America.
Tickets go on sale Sunday, December 18. Tickets start at $33.50 and are available by visiting www.FoxTheatre.org/phantom, calling 1-855-285-8499 or visiting the Fox Theatre Box Office (660 Peachtree St NE, Atlanta, GA 30308). Group orders of 10 or more may be placed by calling 404-881-2000. Performance schedule, prices and cast are subject to change without notice. For more information, please visit www.ThePhantomOfTheOpera.com/ustour or www.BroadwayInAtlanta.com.
THE PHANTOM OF THE OPERA will play at Atlanta's Fox Theatre February 22 – March 5. The performance schedule is as follows:
Tuesday-Thursday 7:30 p.m.
Thursday 1 p.m.
Friday 8 p.m.
Saturday 2 p.m., 8 p.m.
Sunday 1 p.m., 6:30 p.m.
For more information on the production and a video sneak peek, please visit www.ThePhantomOfTheOpera.com/ustour/
Derrick Davis will portray the man behind the mask, 'The Phantom,' with Katie Travis as 'Christine Daaé, Jordan Craig as 'Raoul,' Trista Moldovan as 'Carlotta Giudicelli,' David Benoit as 'Monsieur Firmin,' Price Waldman as 'Monsieur André,' Anne Kanengeiser as 'Madame Giry,' Phumzile Sojola as 'Ubaldo Piangi' and Emily Ramirez as 'Meg Giry.'
Derrick Davis has been seen on Broadway as 'Mufasa' and 'Scar' in The Lion King as well as on national tour. His regional and opera credits include Dreamgirls, Show Boat, Amahl and the Night Visitors and Die Fledermaus. As a recording artist, his two albums A Christmas Journey and Life Music are available online. Katie Travis continues in the role of 'Christine Daaé' after two years with the Spectacular New Production. She has performed principal roles at The MUNY (Les Misérables, Cosette), Fireside Theater, Liederkranz Opera Theater and was a 2014 winner of the Lys Symonette Award (Lotte Lenya Competition). Jordan Craig has performed at the Houston Grand Opera (Billy Bud, Tosca, Carmen) as well as the Alliance Theater, Geva Theatre Centre, Actor's Express and Atlantic Lyric Theatre.
Trista Moldovan played the role of 'Christine Daaé' in the Brilliant Original Production's historic 10,000th performance on Broadway. She has also been seen on national tour in White Christmas, Bridges of Madison County and The Phantom of the Opera. David Benoit's Broadway and National Tour credits include Jekyll & Hyde, Avenue Q, Les Misérables, Dance of the Vampires, Young Frankenstein and All Shook Up. Price Waldman joins the Phantom tour after two and a half years on Broadway in A Gentleman's Guide to Love and Murder. Additional Broadway credits include The Little Mermaid, Grinch and The Lion King. Anne Kanengeiser has been seen on Broadway in the original companies of Little Women, Ragtime as well as the 3rd National Tour of The Phantom of the Opera. Phumzile Sojola has been seen on Broadway in Rodgers + Hammerstein's Cinderella (Lord Pinkleton – original cast) and The Gershwin's Porgy and Bess (Peter). Emily Ramirez has performed with BalletMet and the Charlotte Ballet. She has been seen regionally in The Addams Family, Cabaret, Stage Kiss and Rock of Ages.
The Ensemble includes Steve Czarnecki, Kaitlyn Davis, Tynan Davis, Dan Debenport, Mark Emerson, Jordan Ensign, Jim Hogan, Robert Anthony Jones, Edward Juvier, Ted Keener, Jay Lusteck, Laura Mann, Adryan Moorefield, Sarah Mossman, Shane Ohmer, Quinto Ott, Rebecca Robbins, Eric Ruiz, Ally Taylor Sacks, Travis Taylor, Victor Wallace, Marguerite Willbanks. The Corps de Ballet includes McKenna Birmingham, Sarah DeBiase, Julie Eicher, Daniela Filippone, Abigail Mentzer, Lily Rose Peck, Ally Taylor Sacks and Tara Sweeney.
Andrew Lloyd Webber said, "Having received great critical acclaim in the U.K. and North America, I am really pleased that Laurence Connor's new production of PHANTOM will continue to tour the U.S. playing in tandem with the Broadway production which soon celebrates 30 years."
Cameron Mackintosh said, "With PHANTOM still the reigning champion as the longest-running production on Broadway after 28 phenomenal years, with no end in sight, I'm delighted that this spectacular new production of PHANTOM has been as well-received in the U.S. as the brilliant original and has already been seen by over 2.5 million people across North America since it opened in November 2013. With an exciting new design and staging, retaining Maria Björnson's amazing costumes, the new PHANTOM is thrilling audiences and critics alike all over again. With the production continuing to be such a success, we are delighted to welcome our exciting new stars to keep the music of the night soaring for many years to come."
PHANTOM IS AN ENORMOUS HIT ALL OVER AGAIN!
"Powerful, gorgeous…and better than ever."
-The Philadelphia Inquirer
"Extraordinarily opulent. This PHANTOM'S storytelling and relationships have an electrifying tension."
-Chicago Sun-Times
"An intense and spectacular new production with a stunning new design, fresh drama and added momentum." -Sunday Express (U.K.)
"Take a deep breath and prepare to be dazzled; this kind of gorgeous escapism is exactly what audiences need." -The Scotsman (U.K.)
"This PHANTOM is for a new generation."
-Roy Leonard, Chicago Now
Cameron Mackintosh's spectacular new production of Andrew Lloyd Webber's THE PHANTOM OF THE OPERA is presented by Cameron Mackintosh, The Really Useful Group, and NETworks Presentations. Directed by Laurence Connor (who co-directed the new production of Les Misérables that just finished a hugely successful two and a half year revival on Broadway and will start a North American tour in the fall of 2017, directed the award-winning new production of Miss Saigon coming to Broadway in 2017 and national tour in 2018, and also directed the stage version of the movie School of Rock now playing at Broadway's Winter Garden and opening in London's West End at the New London Theatre this November), with choreography by Scott Ambler, set design by Paul Brown, Tony Award®-winning original costume design by Maria Björnson, lighting design by Tony Award®-winner Paule Constable, sound design by Mick Potter, and musical supervision by John Rigby. The production is overseen by Matthew Bourne and Cameron Mackintosh. THE PHANTOM OF THE OPERA: music by Andrew Lloyd Webber; lyrics by Charles Hart (with additional lyrics by Richard Stilgoe); book by Richard Stilgoe and Andrew Lloyd Webber; orchestrations by David Cullen and Andrew Lloyd Webber.
Based on the classic novel Le Fantôme de L'Opéra by Gaston Leroux, THE PHANTOM OF THE OPERA tells the story of a masked figure who lurks beneath the catacombs of the Paris Opera House, exercising a reign of terror over all who inhabit it. He falls madly in love with an innocent young soprano, Christine, and devotes himself to creating a new star by nurturing her extraordinary talents and by employing all of the devious methods at his command.
Cameron Mackintosh's brilliant original production of Andrew Lloyd Webber's THE PHANTOM OF THE OPERA continues performances at Her Majesty's Theatre in London and in its recording-breaking run at the Majestic Theatre on Broadway and many other cities around the world.
BROADWAY ACROSS AMERICA is part of The John Gore Organization family of companies, which includes Broadway.com, under the supervision of John Gore (Owner & CEO). Current and past productions include On Your Feet!, Fiddler on the Roof, Shuffle Along, Beautiful, Finding Neverland, and Million Dollar Quartet. BroadwayAcrossAmerica.com; Broadway.com
Official show site: www.ThePhantomOfTheOpera.com
Facebook: www.Facebook.com/ThePhantomOfTheOpera
Twitter: www.Twitter.com/PhantomOnTour
Instagram www.Instagram.com/PhantomTour